South African Boerboel Puppies for sale
Check out our latest male and female additions to our 2015 breeding line up.
Giddeon Fisher Puppies 717-687-7243 Born 1-13-15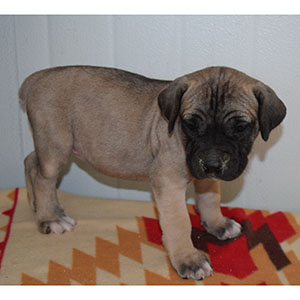 Amos Fisher Puppies 610-932-3681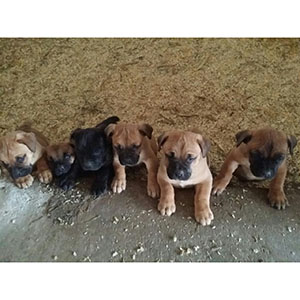 I am Jordan (Boerboel Breeder) Pittman and welcome to my website.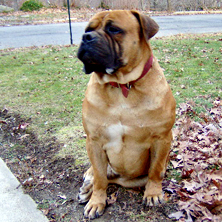 The goal of our site is to provide a platform for a pardigm shift in the way that we think about purebred dog breeding and traditional dog ownership. That is one reason that we are the dogpioneers. Here you will find all of the information that you need to become a knowledgable, responsible dog owner and if you want to be Boerboel Breeder.
Of all the recognized purebreeds and rare molosser type dog breeds we chose to own and breed South African Boerboels dogs. Personally I take great pride in raising owning and training Majestic (AKC SABT) South African Boerboel dogs and puppies. Our South African Boerboels are very special being family dogs they receive meticulous care. Puppies are raised in our home and trained by each member of our family employing the super puppy program, Which involves daily handling from birth to increase nuerological stimulation and development resulting in smarter stronger puppies. Download full pdf about early nuerologial stimilation here.
This website is designed to provide infomation about the South African Boerboel. South African Boerboels are second to none when it comes to dogs! Still they are not for every one. Before you own a South African Boerboel you should know quite a bit about the breed itself. Because Boerboels are rare breed of dog in the United States we want people to get a proper understanding of what these dogs have to offer BEFORE you buy a South African Boerboel Puppy for sale.2
South African Boerboel is the farm dog of South Africa . "Boer" is pronounced Bo Er descends from the Dutch/Africaans term meaning farmer and "Boel" pronounced bowl means dog so what you have is the South African farmers dog. Similar to other farm dogs of the world boerboels are built to be all around work dogs that may perform a variety of task in a single day. One way to describe a S.A. Boerboel is as a ultility dog bred so they can do it all.
Another way to describe the South African Boerboel is the ultimate pet/companion dog. That is a family member protector who is not aggressive. Kind of sounds like a Labrador eh. Boerboels are friendly dogs to their family and those invited into the house. Strangers and tresspassers will activate this dogs natural protective instincts and protective instincts makes them different from many other breeds. Because the Boerboel is big athletic and capable of intense ferocity they can be extremely dangerous in the hands irresponsible owners.
The fact of the matter is boerboels are like many dogs in many ways but one thing that makes them unique is the amount of power they possess. Being big strong and athletic it does not take much for them to knock down a person. Before you buy one a person should understand that they want to work. Boerboels can be a strong 200 lbs, that is too much dog to be hyper and out of control. A person looking to own a boerboel should have the time and energy to devote to working your boerboel is some type of way. When we say working a dog we mean give it a job to do. We want the boerboels puppies we breed to have a purpose in life.
Breeding South African boerboel dogs is a privilege and a responsibility Breeding is a duty we very carefully planned and researched before pursuing. The original Boerboel dogs we chose for breeding stock each have high health genetic value to the South African Boerboel breed. Each of our breeding stock was metilliculously chosen with an emphasis on overall health and temperament. from the original elite established champion Boerboel bloodlines. Each of our champion South African Boerboel bloodlines are proven and bring distinct features and characteristics to the breed that are sought after in the popular Boerboels of today. All of our breeding stock is from the original premier breeders in South Africa.
The South African Boerboel temperament is one of the most prized characteristics of the breed. The South African boerboel is the only dog bred strictly to be a protector of the family. The (AKC SABT) South African boerboel dogs- puppies we breed are handled daily from birth by our family and develop strong bonds to humans from birth. Coupled with the fact that our family of (AKC SABT) champion South African Boerboel dogs-pups come from legendary breeders in South Africa who developed the breeds instincts, we are confident that we are breeding true (AKC SABT) South African Boerboel dog-puppies that have a foundation set to grow into well trained adults with the temperament that made the south African Boerboel breed famous in its homeland South Africa. The same temperament that make them the ideal family dog.
Breeding classic South African Boerboel's with great care
Because we are committed to quality our South African boerboel dog-puppies are family and they get the best handling love and care that we have to offer. Our (AKC SABT) South African Boerboel dogs-puppies come from (AKC SABT) high quality South African boerboel bloodlines. We select our South African boerboel breeding dogs- puppies with based on overall quality versus any one single trait or characteristic. Keeping the boerboel true to form it should be an all purpose utility dog who is capable of doing any task for dogs..
Selection is something that we often point out because we feel as boerboel breeders selection is of the up most importance. In order to breed the best South African boerboel dogs-puppies you must begin with the best South African Boerboel bloodlines. When we decided to begin breeding Boerboels we wanted the classic balanced temperament type of boerboel who had the imposing look of strength. With big strong well developed muscles, thick heavy bones, wide chest and big heads capable of reaching moderate speeds but has stamina and endurance to work all day.
Not only do we breed the big boerboels our dog-puppies are well put together conformationally without sacrificing any of the agileness that the boerboel dog is known for. The South African Boerboel is known as the most athletic and healthy of all the mastiff dogs. We did not go out and get any 2 boerboel dogs and breed them just to produce boerboel puppies. Before acquiring our breeding boerboels we had to look at as many close relatives that we could find. Our dogs had to be capable of producing pups that would further enhance this magnificient guardian breed Our Boerboels stem from bloodlines known to produce big, strong, beautifully functional, South African Boerboels.
Special mention must be made of our South African Boerboel feeding regime.
We pay close attention to our South African Boerboel dog/puppies eating. Our motto is if you intend to breed the best boerboels we must feed them the best food. Feeding is far more than eating. Our dogs-puppies eat a species appropriate diet that consisting of raw meat and fresh veggies. Not only do we have champion south african boerboel bloodlines we feed them the appropriate food so that all of our boerboel dogs-puppies can reach their full potential. We breed raise and train South African Boerboels from world champion breeding stock. All of our dogs-puppies are trained and well prepared to compete in a variety of activities.
We breed south African Boerboels that are true to the historic roots
Even as puppies our dogs are very active and love to run and play. As our puppies grow and get big so do their energy needs. The energy of a growing South African boerboel puppy can be tremendous and a force to reckoned with. We have developed some creative ways to relieve our boerboel puppies-dogs energy. Creative ways to burn off steam from and keep your boerboel puppy or dog quiet happy calm and relaxed is part of the key to our success as (AKC SABT) South African Boerboel breeders. Living in a city residential area and having dogs with destructive habits and tendencies is a big no no. Our South African Boerboel dogs are trained and exercised properly so that barking dogs and ill behaved dogs-puppies is something that we don't have to deal with.
We are constantly challenging our South African Boerboels
to excel through training and dog sport activities. Basic training of your South African Boerboel puppy dog is critical for its development.. Our dogs have a enormous strength and capabilities. The South African Boerboel puppies-dog we breed are performance bred. Our champion boerboels were bred through history to be strong capable dogs. Breeding true to the champion boerboel bloodlines our puppies-dogs carry this athletic attribute. If you look at our boerboel dogs-puppies you will see that we keep excessive weight off of our dogs-pups. South African Boerboels carry a strong influence to the english mastiff. If a South African boerboel breeder is not very careful to avoid breeding purely for the overly massive dogs the dogs puppies will become too large.
A good South African Boerboel breeder will breed for complete dogs-puppies
When you have a puppy-dog that is too large you begin sacrifice the traditional South African boerboel athletisism.The South African Boerboel breed has long been the most complete mastiff breed. Our goal s to follow the breeding combinations set by successful champion South African Boerboel breeders. The trend set that made this the ultimate dog breed. We have been involved in dogs nearly all of our lives. After discovering the South African Boerbeol breed We felt that we wanted to develop and train more boerboel dogs-puppies. We believe that the (AKC SABT) South African Boerboel is the ultimate dog breed. Good high quality South African Boerboels are very versatile and beautiful as well. This breed is alone as one of the only dog breeds to ever be developed purely as a family guardian. All of our boerboel puppies-dogs are fit and thrive on the love we share with them.
South African Boerboel are also known as the South African Mastiff.
Occasionally we have boerboel puppies dogs for sale. To see South African boerboel puppies dogs pets we produced in the past visit our produced page. Additional South African boerboel dogs can be seen on our studs page and dams page. Our web site is filled with South African boerboel pictures and dog profiles. Our South African boerboel's are chosen and bred based on the ideal dog pet temperament.
Our goal is to provide families with high quality puppies at an affordable price. Each one of our puppies is raised in our home with our family and handled daily by my children. When we decided to get into South African Boerboel breeding it was because we loved the dogs and wanted to provide our friends family members with this magnificent majestic breed. Since then our goals have not waivered we are still committed to breeding for friends families. We firmly belive that a South African Boerboels place is with a family.
Remember dog is not a big profit business venture. Dog Breeding is not the next big business with a low startup cost. Dogs are living creatures with a heart beat that depends totally on its owner. Remeber animals do have emotions, can sense pain and do understand fair and equly treatment. As humans it is our responsibility to treat animals with respect and not inflict pain and suffering. Therefore we sell very limited breeder dogs.
Boerboelpuppy.com is where legends are born!
Serious inquires, puppies, and sales please call Or leave us a comment below.
Jordan Pittman 216-244-2088
To make a payment via pay pal click the credit cards logo below.