Ohio Boerboel Breeding Dams
Home Photos Males Females Bloodlines Links For Sale Produced
History Standard Puppies Care Pedigrees Bullmastiffs Feeding
We would like to take the time to honor our original foundation brood bitches. We salute you Bitches and the South African Boerboel breeders who produced you. Mouzer Ysterberg Penny and Dopper Greit being well bred were able to produce dogs with the best traits and characteristics not only of the dames but also the entire blood lines that produced you. Without you we would not have these outstanding progeny of yours.
Exotics Nala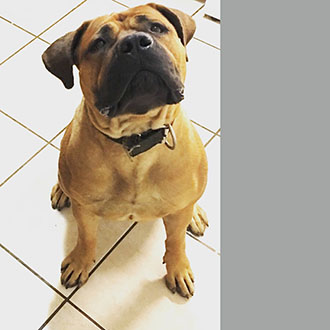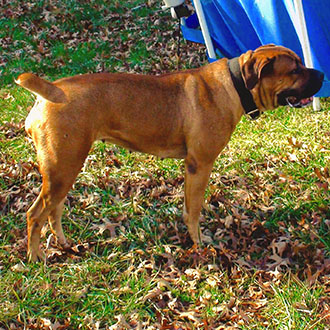 Nala is the star out of a group of superstars. She is the pick of the litter in a litter of puppies where any puppy in any give litter could have been a pick of the litter. Out of this litter we decided to keep back 7 puppies out of 12 they were that impressive!!!She is like Micheal Jordan on the U.S.A Olimpic team. None have dissapointed us as adults eitherFrom the day they were bron she was a thick beefy brolllock dog. And has maintained this masculine physique into adult hood. Approaching 2 years old in May 2016 this girl still has a lot of maturing and growing out to do.
Marasco Lani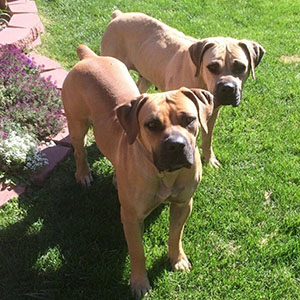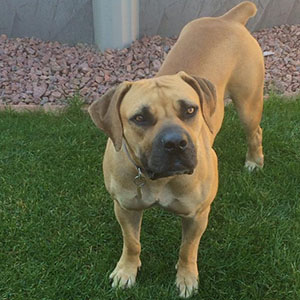 This dog is the sister of Boogaloo—a repeat breeding that was as special as the first. A real rarity. She is the second single puppy from Lani and Pluto, meaning that she is from the second litter that Lani and Pluto had and she is also the second single puppy. She was the only puppy in the litter just like Boogaloo.
Exotic Reign
Reign is another one of those super puppies that came from the flame and smoke of Congo and Queen. You see over and over again special puppy after special puppy from this combination. From a litter of 12 there was not one runt puppy in the litter. Queen had an abundace of milk and not one of the puppies needed to be bottle-fed.
Exotic Juno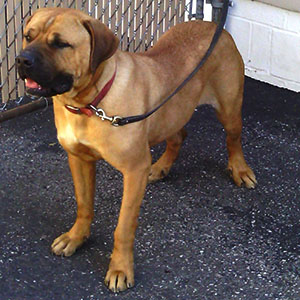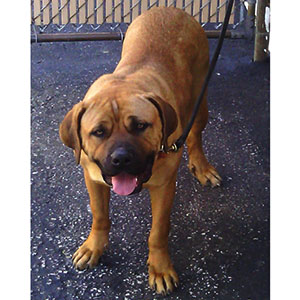 This is the belly mate sister to Candy. She is nothing short of awesome. She has good bone density, a big heavy chest, and a large thick skull. She has the unique ability to pass on those traits to her offspring. She complements many of our males fantastically well. This bitch fits right into the breeding program.
Exotics Oprah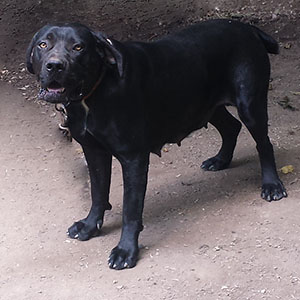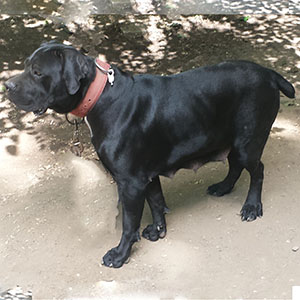 As I said above, the litter from Exotic Congo and Queen was fire flame heat. In other words, this combo was smoking red hot, so hot that we withheld 7 of 12 puppies. Oprah is powerful, beautiful, super rich, high and mighty. We could not think of a name more fitting for this girl. She is just like the real Oprah. People love the heck out of her. Not chocolate or brown she is a true jet black black-on-black South African Boerboel. She does not appear as thick and powerfully built as Poochie, yet she is no less strong. She should be able to breed puppies of the same quality or better.
Exotics Poochie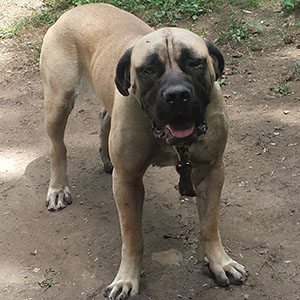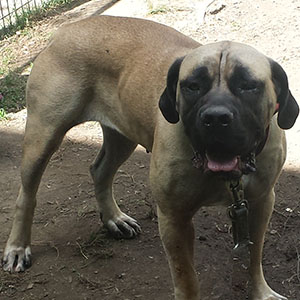 Poochie is my daughter's favorite puppy, and from a litter between Congo and Queen. She is gentle and very careful around the children. The entire litter was so impressive that we withheld 7 of 12 puppies. From the breeding we have retained The Mack, Poochie, Oprah, Dolomite, Reign, Nala and Cream. All of them have exceeded our expectations. They are all beautiful, well built and muscular, with sound temperaments. Poochie lives in Lancaster PA with some of our friends there. She is a strong gorgeous dog with intelligence to boot. The dogs she produces are going to be remembered.
Exotic Candy Cola
Candy is one of my favorite females. She was selected not because of her large frame or thick muscling, but because of her energy. Bigger does not equate to better especially when referring to dogs. Because Candy was a high energy pup she has grown into a high energy adult. Because of this we can run her for long periods of time without becoming fully exhausted. We love to run and work our dogs and puppies, so we have a placed a high value on Candy and her offspring.
Note Candy has a proven track record for producing high caliber pups. Her litters are regarded as special and highly sought after. Her puppies are reserved for elite clientelle only.
Click on image to view dams pedigree

Our prized SABT South African Boerboel Breeding female Greit's entire pedigree reflects a concentration of Dopper Boerboel blood. Dopper Oubass is the grandfather of Roenard Harry (father), Corma Buks (grandfather and 3x grandfather), and Roenard Martiens (2x grandfather). Dopper Oubass is responsible for producing big, beautifully built, strong South African Boerboel dogs with stable balanced temperaments.

Greit is a very special dog who is dear to our hearts. She has a sweet disposition and loves attention and affection. She is the breeder of many of our finest dogs.

Click on image

to view dams pedigree

This gorgeous, masuline female Boerboel dog is an example of pure Mouzer Ysterberg Boerboel blood, one of the few South African Boerboel alternative bloodlines. Mouzer Ysterberg Penny possesses the massive head, chest, bone, and muscling we desire in our Boerboel dogs-puppies. She is linebred strongly to Ysterberg Vetger III, an outstanding stud Boerboel who produced some of the finest Boerboel males and females in the breed.

Ohio Boerboels Jena 6 AKA Remy pedigree

Ohio Boerboels Sheba pedigree

Home Photos Males Females Bloodlines Links For Sale Produced

History Standard Puppies Care Pedigrees Bullmastiffs Feeding