Introducing Exotic Breeding Studs
The breeding studs are the cornerstone of our breeding program. All of our males have been selected based on years of development. We have seen quite a few puppies develop into dogs in our years of breeding dogs. Many dogs did not make the cut. Over time we have learned exactly what to look for in our pups.
All of our males offer completeness first and foremost. They possess the ability and high likelihood of producing sound dogs mentally and physically. We place no emphasis on any one trait. More important is the sum total of the complete dog. In any one of our litters you can find show and working dogs often both in a single pup.
Before we select a stud dog as a breeding dog, we analyze the offspring, siblings, parents, and overall quality of the littermates. All these factors have been taken into consideration. Anything I don't know about these stud dogs has not been discovered. My deep understanding of these dogs has turned me into the superior South African Boerboel Breeder that I am today.
Without delving deeply into genetics I will attempt to thoroughly detail each dog's strengths and weaknesses, and what can be expected from their pups.
Lions Den Naeem Aka BANG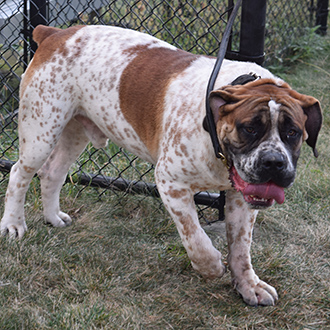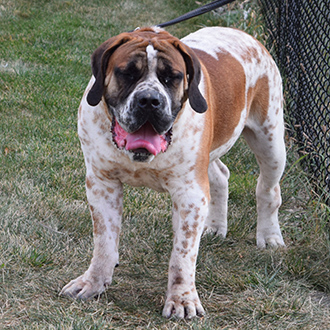 Bang is from Musas Branham at Lions Den Boerboels in New Jersey. We brought him in to spice up our blood with more thickness and drive. His coloris an added plus. He has the rare piebald genetics. At only 20 months he has yet more filling out to do. Bang completes and complements our program in every way. He is rock solid and full of drive and energy.
Exotics Jethro
2016 The difference between 1 year (bottom) and 2 years(top) about an additional 30 lbs in width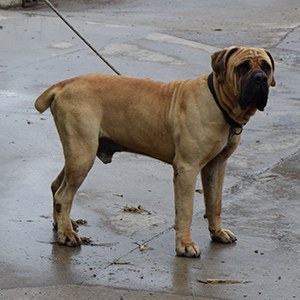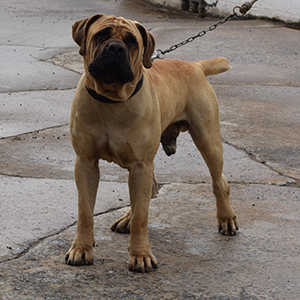 2015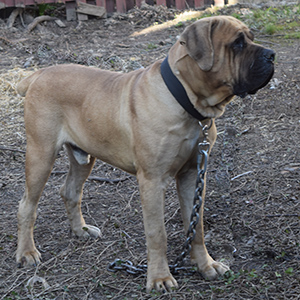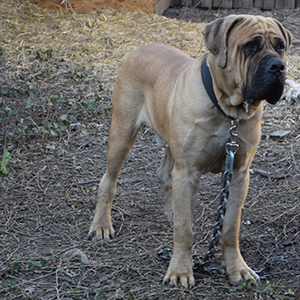 A son of Candy and Flex. pictured at 228 lbs 15 months old. This is our idea of what a Boerboel should be.The perfect combination of size and conformation. Large powerful big in every way. This is a monster of a dog. Upon the first glance you get the impression this dog belong in a zoo. He is right out the land of the giants. A collosal beast. He is the mecca of Boerboels. If you are impressed by size look no further. It doesn't get much bigger than this.
The Mack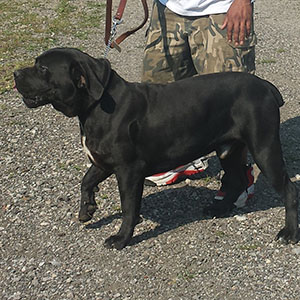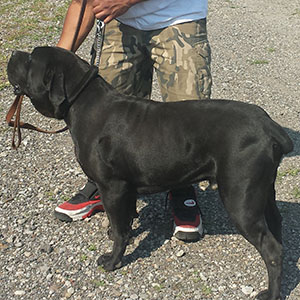 The Mack derives from the Congo Queen Breeding. He is built like a Mack Truck—low, wide, heavy duty, and full of power. It is hard to get a good picture of him because he is always on the move. His strengths are muscle tone and temperament. The puppies he throws are big with excellent conformation.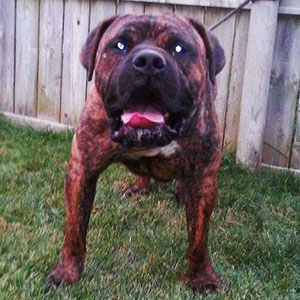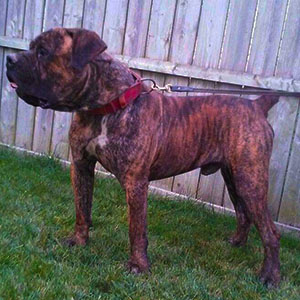 Above is the Exotic Lebron Swagger. We are not making light of the real life Lebron, because in fact we are huge Cleveland Cavaliers fans. We like to name our dogs names that convey power and that are memorable. Everyone is expecting Lebron James and the Cavaliers to win mulitple championships. The same can be said about our dog Exotic Lebron Swagger and the Exotic Boerboel breeder team. He is going to win fast, and the impact is going to be legendary. Are we talking about the the world famous Lebron James and the Cleveland Cavaliers? No, we are talking about the Exotic Boerboels Lebron Swagger and the Exotic South African Boerboel breeding team.
A son of Exotic Congo and Dopper Lydia, this boy has the genotype to match the phenotype. He has some highly desirable traits and characteristics: a thick skull; a wide, heavy, deep muscular chest; a smooth, easy-going temperament; and a high energy level—a really complete male, and what makes him a total package is the fact that he has not sacrificed movement or angulation with the thick chest or heavy bone. A South African Boerboel in rare form.
(above)Marasoco Exotics Boogalooo the young prince of our South African Boerboels is growing into a fine specimen. If you thought Pluto was good you have not seen anything yet. Boogaloo is a true stunner. Everyone who sees this dog is in love with him. He is an ambassador for the South African Boerboel breed. this young legend is extremely special. At only 8 months he was 142.9 lbs with quite a bit of growing to do. He stands at 27 inches at the shoulder already. With excellent conformation muscling and the temperament to match we are expecting great accomplishments from Boogaloo as well as his progeny. Stud service to select bitches only!!!
(above) Meet Exotic Fn57 Flexin This male is well over 150lbs and he is lean. He features great bone muscling and agility. If you look carefully you will notice he has an intense stare. It represents Flexins attitude well as he is a very serious dog. Seven has a strong temperament which commands respect. He is the type of dog who is only for the experienced owner. He loves to run and stay fit. For a big dog he has great stamina and endurance. The pups sired this stud are for the advanced owner.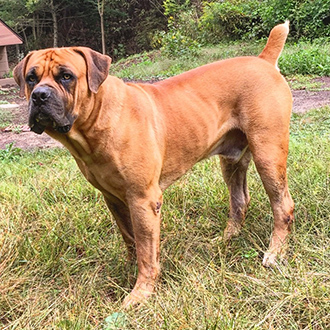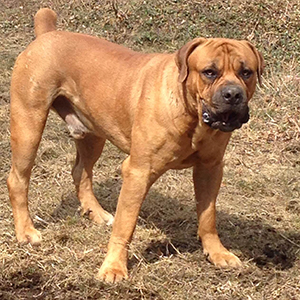 Meet Exotic King Django. One my all time favorite puppies. From the beginning he has been very special. Highly intelligent out of Candy and Boomer early on he showed great instinct. Pictured above at 9 months and 122 lbs and LEAN a tribute to-a great genetic base and high quality care this is what you get when you put the effort in. Look for him to show out in 2014.

The DOGFATHER Baden Pluto is the featured boerboel dog here at Ohio Boerboels His pedigree reflects a bloodline full of 0/0 (perfect) hips The photos show him and me on the day we accomplished the Schutzhund AD, truly a tribute to his hip health. Without super solid hips no dog could accomplish such a feat. That day together we covered a course of over 12.5 miles. It describes our bond perfectly. He is my roll dog. If he could go everywhere with me he would. Pluto is fit and ready for a challenge on anytime anywhere. He is versatile enough to excel in a variety of activities from weight pull to hunting. On top of his physical capabilities he is a show-stopping handsome dog and capable of passing on those traits to his offspring. Pluto is a Champion Boerboel producer. In our neighborhood he is a celebrity. Everybody loves Pluto and for very good reason.
Stud Service Available

(semen shipped worldwide)

Sabt 83.1% Merit award Winner at 11 months

Schutzhund AD
Natural Breeder
Hips and Elbows OFA prelim Good
Canine Good Citizen
Semen shipped worldwide
Brucellosis-free
From our first generation of Boerboel puppies ever. Moe is a boerboel that makes other breeders wonder, How did he do it? My secret is thorough research and study. Moe brings people from all parts of the United States to the Ohio Boerboels breeding facility.. If he is ever to replace his father as the ultimate boerboel stud dog then he has much work to do.
Pictured at 22 Months
SABT-registered

Stud Service Available

Excellent endurance
Full Marks for Muscling
Semen shipped worldwide
Natural Breeder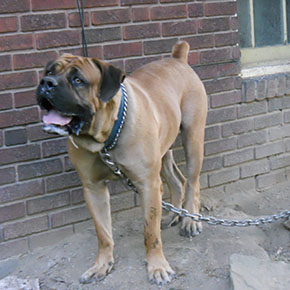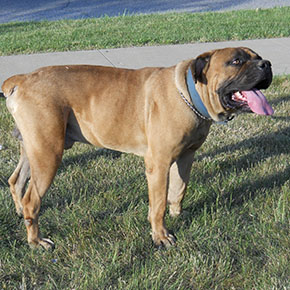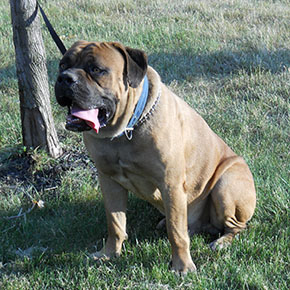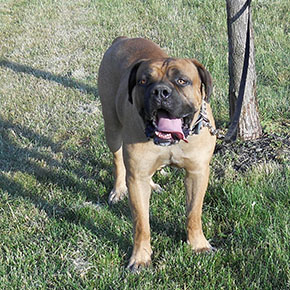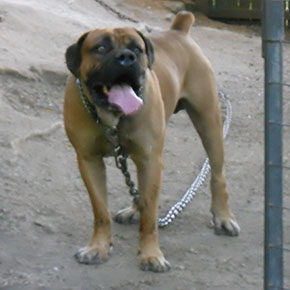 Congo, in my opinion, has turned into one of the most important breeding males in the South African Boerboel breed. His momma is Mouzer Ysterberg Penny, one of the purest Ysterberg bitches in the USA. His sire is our show stopper Pluto. This combination threw some of the most exciting Boerboels this breed has known. His semen has been shipped all over the world and even back to South Africa. Littermate brother to Deathroll, at this point it is hard to tell which dog is the most promising. What we do know is that each will be used in many different breeding combinations. Congo is a momma's boy. He spends much of his day in the house keeping mom and the kids company. He is obedient and a good watch dog.
Deathroll is an example of what a highly esteemed pedigree will produce—built structurally strong and conformationally sound. His momma is Penny from the Ysterberg Mouzer Boerboel bloodline and his father is the dog father Pluto. This is the result of generation after generation of strict selection. He is the male version of his momma Penny. Tank has nothing but the best of the best Boerboel dogs behind him. It reflects in his appearance as well as his temperament. Not only is he good-looking, he is so well mannered he doesn't even require a leash or collar for walks in and out of the city.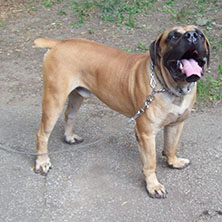 Boom is a well put together son of Congo. One of the traits and characteristice that he carries is a thick well filled head. Congo progeny all carry this dominant trait. As expected the temperament is sound and confident. Boom is a spitting image of his father Congo. His mother Diamond is no longer with us and retired in Detroit. Consider him one of the last of a dying breed.
Jordan Pittman 216-244-2088
To make a payment via PayPal click the credit card's logo below.