South African Boerboel Puppies By Ohio Boerboel
Home Photos Males Females Bloodlines Links For Sale Produced
History Standard Puppies Care Pedigrees Bullmastiffs Feeding Rescues
Throughout the years of dog breeding we have met many people who found the space for a boerboel in their life. Many people fall so hard for their first boerboel they decide to get a few more that is how great South African Boerboels are. They truly are the dog lovers dog. We like to stay involveld with our new puppy owners to assist them throughout the life of the puppy and they assist us in the development of our bloodlines. Here are picture of our dogs as pups and later of them as adults.Thanky you to all the new owners who care for their puppies and dogs and take the time to send us the photos.
Jordan
Hello from Iowa. I thought I would send you a few pictures. Cash is doing great we finished puppy class. We take him to day care in the winter to run off some energy. Which I have been told that at day care he has a girlfriend. A Chesapeake bay retriever named Jasmine. We are loving him so much. I can not thank you enough for quality dog that he is
Emily Brian Butters and Cash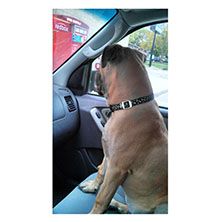 L. Tyler Texas He is getting so big so fast!! its crazy.. He now weighs 32 lbs....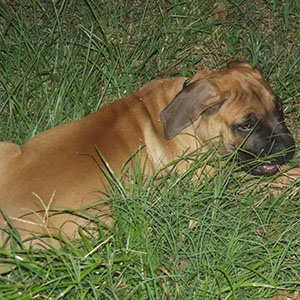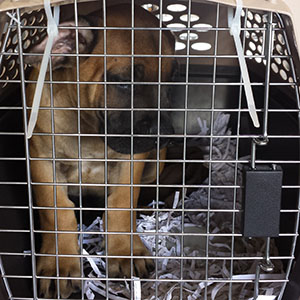 Exotics Buddah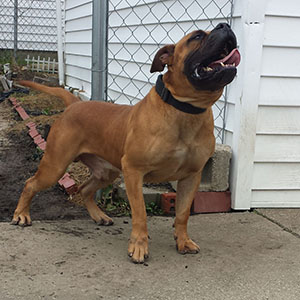 Sorry I have not been in contact. We are having a blast. Walking on the trail every night, running in the yard and even a pool!!

We start puppy class in two weeks. He is a very well manored dog. Barks only when he wants to play, or for some reason in the truck. Has learned sit and kennel already!

I hope everything is giong well for you and your family

Emily and Brian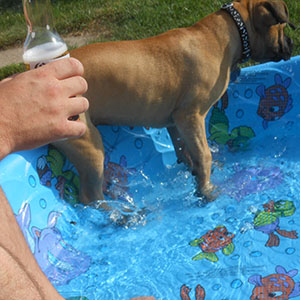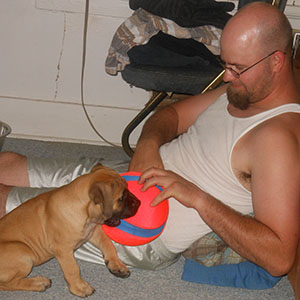 Bubkis Dade County Florida Stud Service Available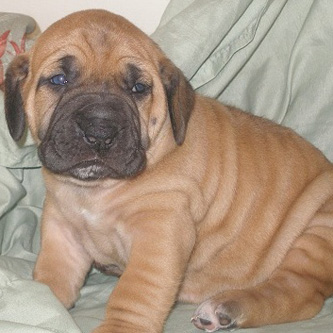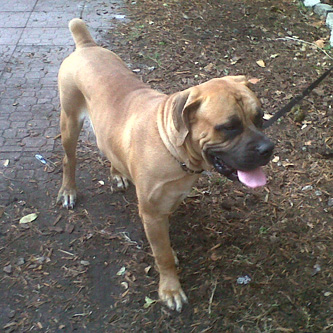 Exotics Sheera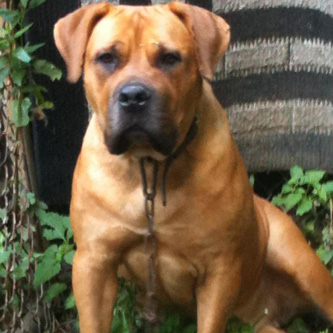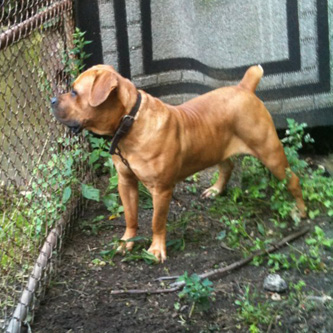 Django from Pennsylvania Future Stud Service Available(pictured @ 6months)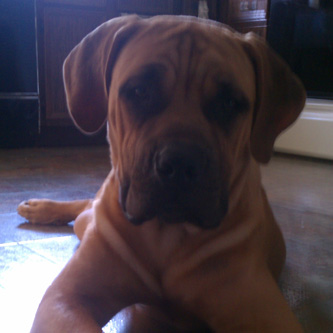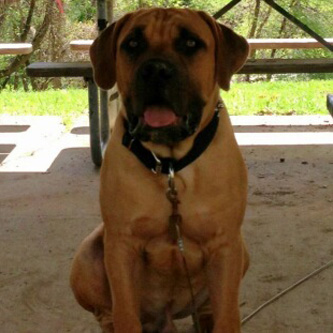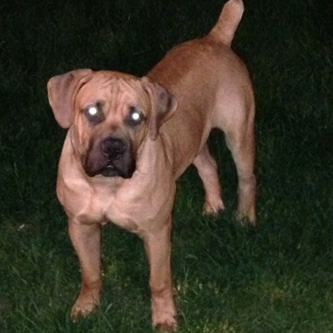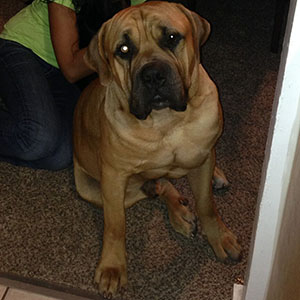 Sir Gotti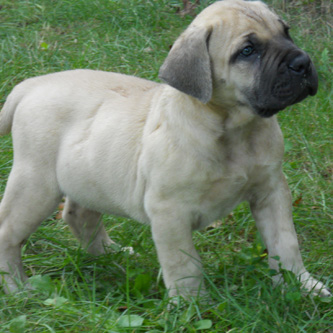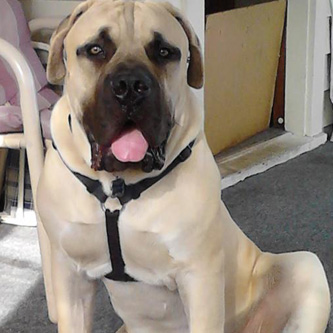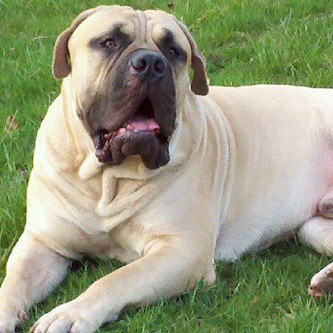 Hey jordan this is jill and isaac from cincinnati. We thought we should maybe send some pics of our beautful pup and send our thanks as well. We love her, she is the most well behaved dog i have ever been around and looks just like pluto, build and all. We have yet to meet anyone that is familiar with the boerboel breed, which is cool because of all the attention she attracts. We cant thank you enough and we hope all is well for you and your family. Her name is mya and she is 6 months in the pictures im sending.
Take care and god bless,
Isaac and Jill
Shan and Jenni Capps and the Houston Texas Boerboels
Robert And Judeanne Caputo with their dog Wildey Illinois
Family From Illinois picking up their young pup.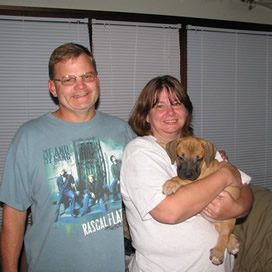 Loren Steel and family from P.A.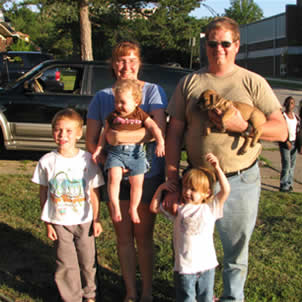 Spirit Owned by Lisa Labonte Conneticut
James Davis and Champagne Union Ohio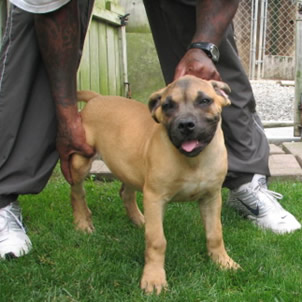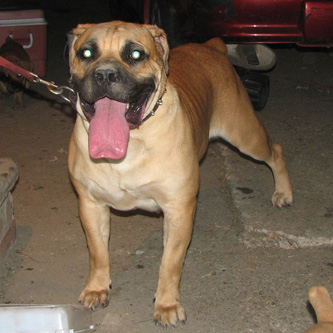 Jill from Cincinnatti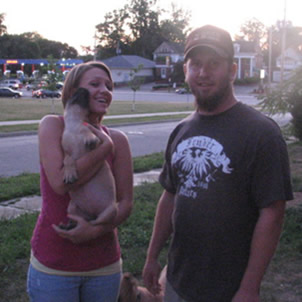 Lucas Hewitt and Bruno from West Michigan Boerboels
Lucas Hewitt again picking up his second South African Boerboel Lady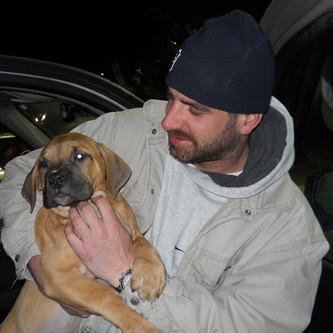 Will and Teresa Hopper Boy as a pup teen and full grown Son of Diamond and Congo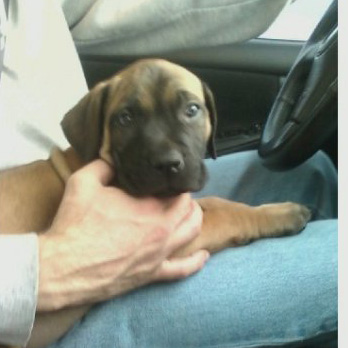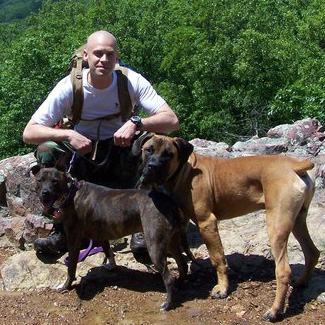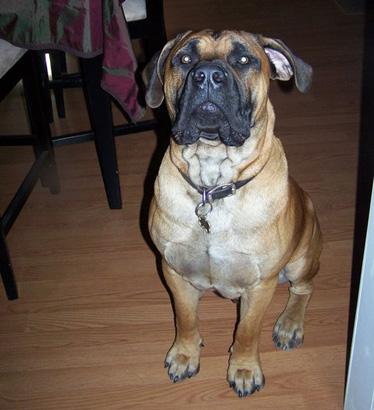 Fatz from East Cleveland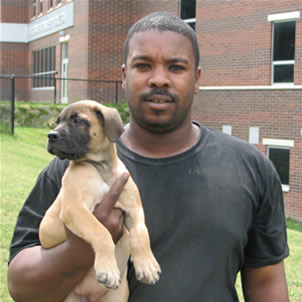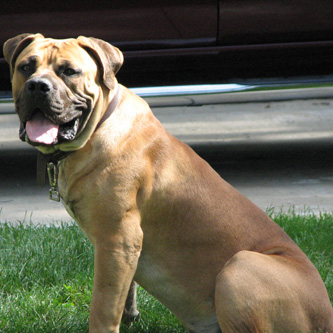 Ryan Johnson owner of Raven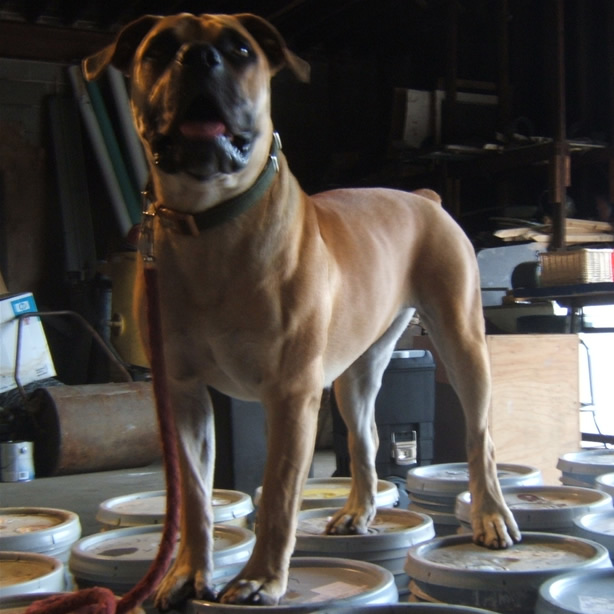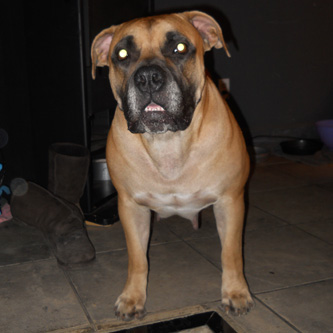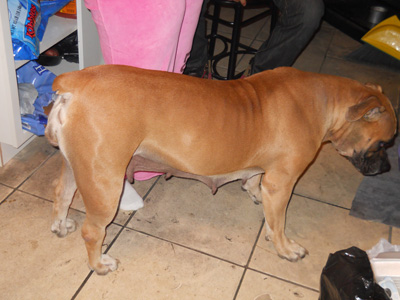 Dear Jordan,how are you and the family?It been a while since sent you some pictures We are doing wellRaven is a joy to own. She has that show stopping appearance of her dad. I love the way that her muscles just pop out of her hindquarters and chest. one thing that people always notice is how shiny and healthy her coat is.
Cassius and Daniel and family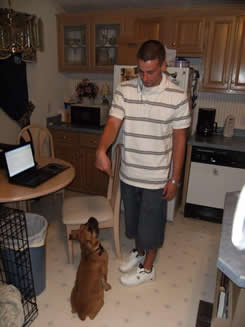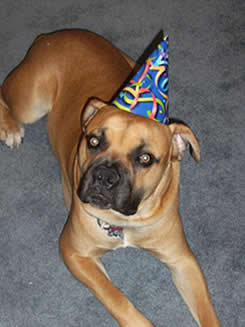 How is everything going out there. Heard there was a bunch of snow out there lately. Cassius is now 25 weeks old and doing great. He is growing so quickly and learning just as quick. He knows sit, lay, shake, wait, come, and no. I still have to get him in training classes but have been really busy lately about to finish my last semester of college. He is a wonderful
dog
and I or guess I should say he get so many complements from everyone. He is such a beautiful
dog
, loving, smart, and just has brought so much happiness to my life. Thank you so much. I hope all the other
dogs
are doing good and that you and your family are doing well. Attached are some of his latest photos. I also post pics about once a week to my myspace page
http://www.myspace.com/dlsheaffer84pa
Erin Greg Gallaway and family
Hello Jordan!!

Attached is a photo that I took of Bella and my daughter - I took it TODAY - look how BIG the puppy is now!!! She is a very healthy VERY well behaved almost 5 mo.old puppy and is already 54 lbs!!! She is enrolled in obedience class starting Jan.08. She actually has a GREAT temperment - but we are doing the class to learn "heal, stay, etc." stuff like that.

Thank you SO much! I thought you would like the picture of her with my 3 yr old. I think it speaks volumes on temperment. She sleeps with my little girl now...She was in a crate at night - but she has been so sweet to my daughter that she now sleeps with my daughter. And as you can see (from the photo) she is now allowed on my Italian Leather sofa!!! I NEVER thought I would allow a dog on the couch - but she is so good and gives me the look - I can't help it...She has all of us around her paw :)
Attached also is her new house! She (next month when we move in) will now have 10 acres to run on..woods a pond..the whole works!
Thank you again for breeding a GREAT dog!

Have a happy holiday! Tell your Grand parents hello!!!

Sincerely

Erin Gallaway
Faith and Sydney Owned by Wilson family Detroit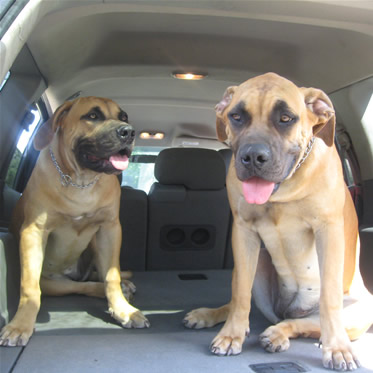 Minka Arizona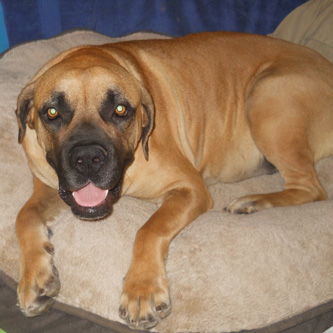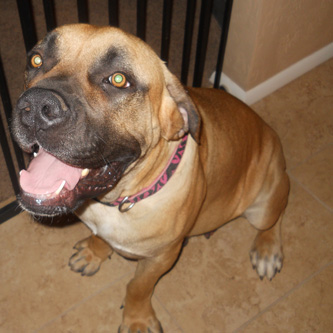 Muhammad Shabazz Co owner of Tank (aka Deathroll)
Jordan,
I wanted to thank you very much for Tank. This is the best dog I have ever had, I take him to work with me on Sunday's at my barber shop, he watches the front door for me. Everyone who sees him, loves him.Everyone says look at that head he is going to be BIG!!. I have owned other dogs and Tank is by far the smartest. Look at his chest in this picture!!!! I will be in touch with you soon for a puppy from your next litter.
Boerboels are awsome dogs.
Shabazz