E Collars and training South African Boerboels
Home Photos Males Females Bloodlines Links For Sale Produced
History Standard Puppies Care Pedigrees Bullmastiffs Feeding Rescue
What is an e collar and how does it apply to the South African Boerboel
With the rise in the popularity of South African Boerboels we have seen a sharp rise in boerboels finding their ways into rescues and shelters. Being South African Boerboel Breeders for the love of the breed we find this situation very disturbing. So we have come up with a page about the uses of Electronic chock collars for a LAST RESORT option. We prefer to use the standard correction collar commonly known as the choke chain for training our dogs and puppies. But we find that it is necessary to provide information on the Electronic collar if you have to use it as a last resort versus giving up your dog puppy to a shelter If you plan on using a Shock collar we would like you to do so in the most humane way. Before you put the collar on your dog be so brave to put it on your self and give it a shock on high to see how the dog will feel.If shock collars is the only way that we can help you avoid sending your dog to the shelter then I guess you can say we are for shock collars and against putting dogs in shelters.When South African Boerboels end up in a shelter often it means certain death.We want to stress the key to havinfg a successfull relationship with your South African Boerboel is understanding how to communicate with your dog. The people who are going to have the best relationships with their boerboel are the people who understand dog language the best.
The Choke Collar Best collar for humane training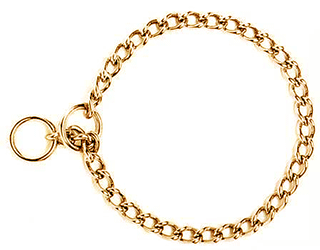 Here is a picture of the best collar available for training your South African Boerboel or any dog for that matter. We like to use and recommend the Choke Collar also calles choke chains slip collars or slip chains.Not because the chain actually choke the dog. It is very effective when it is used appropiately. The correct way to put it on is in the shape of the letter p around the dogs neck. That way when the correction is given it automatically loosens back up. If you hold up the collar after you form the slip not and you have the shape of a q then you have it on wrong and the collar will not loosen after the correction and could result in choking your dog.
The other type of collar that will see heavy use on our yard is the sporting collar Flat collar or the belt buckle collar. These collars are built well and typically will last a dogs entire lifetime. We like the 3 ply for adults and 2 ply for puppies. Typically these collars are 2 inches wide and made of nylon stitched not buttoned. These colars are better for us than the leather collars because they will not dry stretch and break theway that leather collars will. These collars are great if you tether your dog for fresh air during the day. They also work great to if you decide to put LIGHT weight at the end of the rope or chain so your dog can pulll. Let me once again EMPHASIZE light weight. Rember that this weight is going around the boerboels neck so it should not be too heavy to avoid straining the dogs neck. Also remember that smaller dogs must start out on a chain that is not so heavy that the dog is struggling to move.
When we step out to dog show we like to use the fur saver collar or a custom made flat collar. the fursaver collar is designed to you guessit save your dogs fur from choke collar wearing down fur on the dogs neck. Some times these collars are REQUIRED for your dog to be eligible for events. So if you plan on showing or working your South African Boerboel then you may want to invest in a fur saver for the road trip just in case it is required. It would be terrible for you to put in months maybe even years worth of work only to find out that you will have to wait until the next competition because you did not have your fur saver.And trust me it does happen.
So again we only advocate the use of the remote collar as LAST RESORT EFFORT to save you South African Boerboel after you have tried all of the other methods with no success then you should try the remote collar only when your dogs life depends on it.
E collar is a term used to describe a family of remote control training collars also known as the remote collar eletronic collars or shock collar.The collar produces a static pulse at different intensities and lengths coming from a transmitter inside the collar. Some may also have a sound vibration and gps. Electronic collars originated in 1960 for hunting dogs and the early model were so powerful that improper usage often resulted in injury to the dogs.Today e collars have a wide variety of uses for many different types of dogs including the South African Boerboel.
Pros of the e collar and your South African Boerboel.
Designed to train humanely without the use of physical force.
E collar is a very powerful valuable training tool because they get a response like nothing else.
Allows strong long distance corrections.
Can make South African Boerboel dogs defferenciate between good and bad very quickly.
Allow immediate silent correction.
Great for elderly and people dealing with large powerful canines like the Sout African Boerboel.
Excelllent tool for training recall.
Can be used to educate your South African Boerboel.
Not strictly for corrections.
Great for teaching your South African Boerboel what not to do.
Requires no physical intervention.
Delivers a clear cut no message to your South african Boerboel dog.
Cons of the e collar and your South African Boerboel
easy to over corrrect.
Not the be all of dog training.
Can be confusing to boerboel dog pup.
Not good for teaching new behaviors.
Can make dog suspicious.
Not for beginners
Not for permanent use.
Shock can be very unpleasant for your dog.
Does not replace timely training.
Not a short cut in training.
Must be used very carefully around other dogs and people
Appropiate ways to impliment the e collar with your South African Boerboel
Before you begin to use an e collar with your South African Boerboel dog puppy consult a proffesional in the field of e collars, read all of the instructions that come with your e collar and consult a proffesional trainer. Because the e collar is a powerful training tool that can have serious consequences when used in appropiately. We have seen the E collar flat out ruin dogs. If you do decide to invest in an E collar we would like you to remember that the idea is not to inflict pain and punish the dog but to tell the dog in a clear message to the brain that the behavior that they are currently displaying is incorrect And their is nothing more to it than that.
Links containg more information on appropiate use of the e collar