South African Boerboel Rescue
All New Rescue Available Posted 4-22-14
This Boerboel?/Mastiff was found near white rock lake Park.The vet says he is 1 year old, 91lbs, too skinny, but healthy. Possibly a Boerboel. He is house trained, good with my other dog. Does not pull too much on leash if asks. Muscular, athletic and powerful. No food aggression, no toys aggression. Plays well. Follows us around the house all the time. Has no separation anxiety. Does not slobber. Listen to commands (sit, wait, don't move...) I feed him with my dog in the same room. Give them bones next to each other's, can take them away when I want. Took him to petsmart with lots of dogs and people around. Took pictures of him with professional lights. Make noise in the kitchen with blender and such around him with no problem. He seems very devoted to us already, follows us everywhere, sits or sleeps at our feet in the office or watching tv.. He does barks or growls at the front door if something odd goes on in the parking lot. He also seems to like to hunt or is at least interested in ducks and birds. Voila! Let me know if I forgot something. Contact Nora and Scott at 214-930-9903
email nora.mezioud@wanadoo.fr
Good Morning,
We have a 5 year old Boerboel named Murdock that needs to be rescued. He is a nuetered purebreed, almost 120 lbs and a very good guard dog. I am asking for help not because I don't love him with all of my heart but because his quality of life is terrible.
As I said, Murdock is a great guard dog- unfortunately he is way overprotective of me and his yard and has broken through our chain link fence to get at a passer-by. Thankfully the man was not hurt (he jumped into his car) but it could have been a child! It is too much of a risk to have Murdock outside to play or to be off of his lead at all. This is very unfair for him. He loves to run & play & I am too scared to let him. Our house is too small to play inside- so he mopes. I am ruining his life. He needs to go to a family who has a yard (not with a side road next to it) so he can play.
Murdock has been through basic training (puppy kindergarten) and socialized. Then 3 years ago I got hurt. His behavior changed. He began to be overprotective of me. Not with everyone, but certain people set him off. We have tried behaviorists and trainers and none can figure out why these certain people set him off. It is impossible to tell when he will flip this switch. Inside he is fine, he actually thinks he is a lap dog! The only time he freaks is if the UPS guy or a stranger approaches the house. He is fine with the people he has known forever, new guests don't get to meet him because we lock him away for safety. Again, a quality of life issue.
I am 6 months pregnant and am only now starting to panic about how he will react with an infant...I am scared and desperate. I need help and I need it soon. This poor dog is depressed and its breaking my heart. Please advise me on what I can do. I have attached pictures as well.
We really appreciate your help.
Thank You
Jill, Andrew & Murdock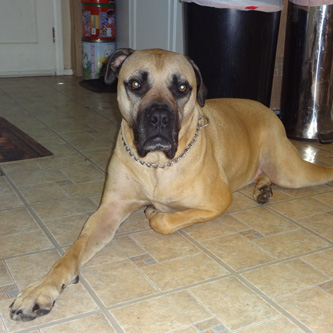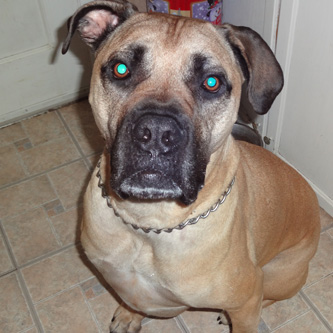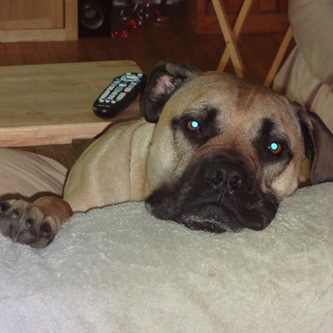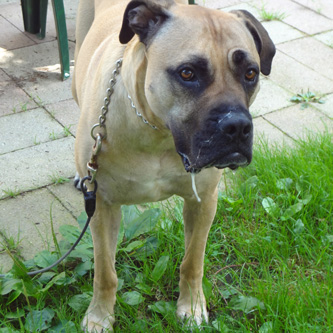 His name is Maverick he is 11 months old and is in need of a good loving home like the one he has here with us. But it seems someone in our subdivision is off put by his size and feels the need to call the police and tell them they are scared of him instead of knocking on my door and ask to get to know him so they are not scared any more. They have now complained enough to classify him as a nuisance animal and I am worried the county will come and take him from us and do what ever is the cheapest to take care of the problem. The sad thing is he is a sweetheart and loves people and kids and all he wants to do is run, play eat and sleep (the good life ) he is potty trained working on the leash getting better every time but still a puppy and wants to smell everything. And the best part of his personality is that he just wants to be with you, if you want to kill a Sunday on the couch watching football there is no better friend to have sitting on the couch next to you. So if you are looking for a good family pet they broke the mold when the made him.
We are located in Missouri Call Matt larson @ 314-614-6150 or by email mattlarson122@yahoo.com for more details on Maveric.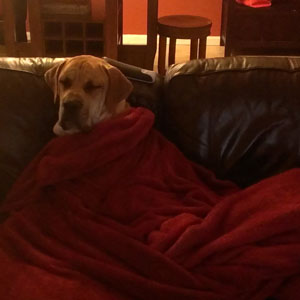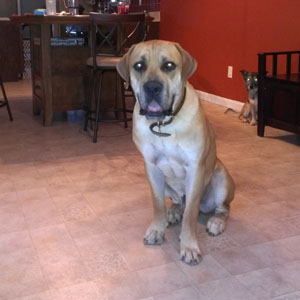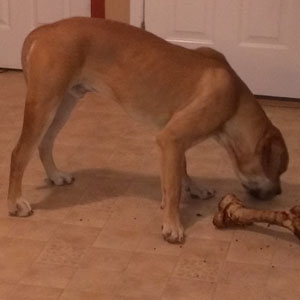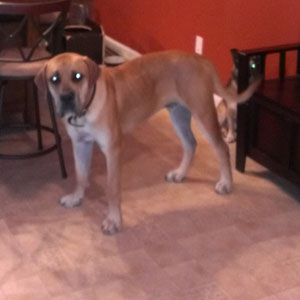 Boerboels Mastiffs in need of Rescue
When it comes to South African Boerboel rescue
We belive an ounce of prevention is worth a pound of cure. Before you get a South African boerboel dog puppy try to see your self and your pet in the next few years. It can be heart breaking for a dog to have to be rescued from a family it has grown to love. It can especially hard for and puppies because of the strong genuine bond that they enjoy with the owner.
As responsible pet owners and South African boerboel dog puppy breeders
We view the euthanizing of thousands of unwanted pets as sadly irresponsible. Humans are directly responsible for the euthanization of pets. There are just too many dogs and puppies in shelters. The cost to run shelters. result in many euthanizationsthem unwanted do.
Ohio Boerboel puppies do not need rescue they always have a home.
All of the Boerboel dogs, puppies bred by Ohio Boerboels are encouraged to return back to us if the new owner can no longer care for it. We are dedicated to all of our South African boerboel dogs and puppies for their entire life span.
We would like all South african Boerboel dogs and puppies to have a safe warm comfortable living enviorment. If you have any dog or pet in need of rescue let us know we may be able to help you find a good home if we cannot care for the animal ourselves.
Jordan Pittman 216-244-2088
To make a payment via pay pal click the credit cards logo below.